July 3, 2023
When Maria dropped out of school in sixth grade to get married, her life was limited to household chores and farm work. But her innovative ideas have gained her the winning prize in the popular reality show Nd'umu DG, alongside recognition from the Burundian President himself. Maria's story is an example of resilience, determination, and how women's economic empowerment can improve social cohesion and effectively advance women's place in society.
Having left education after sixth grade to get married, Maria Ndinzemenshi (from the Gitega region in Burundi) found herself struggling with household chores and farming responsibilities. An innovator at heart, she experimented with techniques to improve the efficiency of her farm through the utilization of alternative fertilizers, but never thought about taking her ideas further. That was until she connected with Search for Common Ground through a listening club – where women like her gathered regularly to listen to radio shows and talk about the issues covered in them – and started hearing stories about how other women had turned their lives around by saving money and investing in their ideas. Encouraged by the club, Maria took a leap of faith, and participated in Nd'umu DG ("I am a Director General"), a reality TV show produced by Search in partnership with Ubuntu Photography.
While the first season centered on youth, the second season of Nd'umu DG, funded by USAID through the Tuyage Project, received over 300 applications from aspiring women entrepreneurs from Bujumbura, Gitega, and Muyinga regions. 14 applicant were chosen to develop their innovative projects as part of the show and the final three, including Maria, made it to the final phase, which required them to present their idea to a distinguished panel of judges, the President of the Republic of Burundi, the United States Ambassador to Burundi, and Burundian ministers. Maria's project, centered around "green" toilets for processing organic fertilizer, garnered attention for its potential to reduce farmers' expenses on chemical fertilizers and minimize environmental impact. Maria won the first prize of 15 million Burundian francs.
Impressed by Maria's dedication and the impact of her project, the President made a significant decision to award her an additional 20 million from the State Budget to further develop her initiative.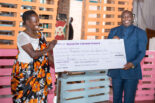 With this financial support, Maria is determined to scale up her project to the national level. She has developed a business plan and utilized the prize money to acquire land, livestock, and resources. She has also distributed cows, goats, and pigs to neighbors who lack such resources, fostering solidarity and progress within her community. She has constructed nine "green" toilets and teaches others how to build and utilize them effectively.
Maria's achievements have gained recognition beyond her appearance on the reality TV show. Multinational organizations working in Burundi now seek her expertise, students seek her guidance, and local media celebrate her work. "Participating in the reality show Nd'Umu DG has been an incredible journey, transforming not only my own life but also positively impacting the lives of others and our community", says Maria. "It served as a catalyst for my personal growth and taught me to transform ideas into projects. After the show, people have recognized my skills and understanding, and they come to me to seek advice and guidance. University students come to me because they know I have something to teach. They use my example as a role model for empowerment and innovation." For her remarkable contributions, Maria was honored by the Mutaho commune authority with a certificate of recognition during the celebration of International Workers' Day.
Realizing the immense potential of the contestants and the success of the show, the President expressed his admiration for the initiative and the organization behind it, Search for Common Ground Burundi. As the Tuyage project enters its close-out phase, at the President's initiative, the government of Burundi has started a similar reality show of their own – ensuring the impact of Search's initiative beyond the project period.
Maria Ndinzemenshi's story is an example of resilience, determination, and how women's economic empowerment can improve social cohesion and effectively advance women's place in society. Her journey serves as an inspiration for countless individuals, showcasing the profound impact that can be achieved when talent, opportunity, and support converge.