October 5, 2020
Read the stories you have made possible and let's celebrate together our successes in building peace!
---
[Testimony]
GUINEA: Meet Keita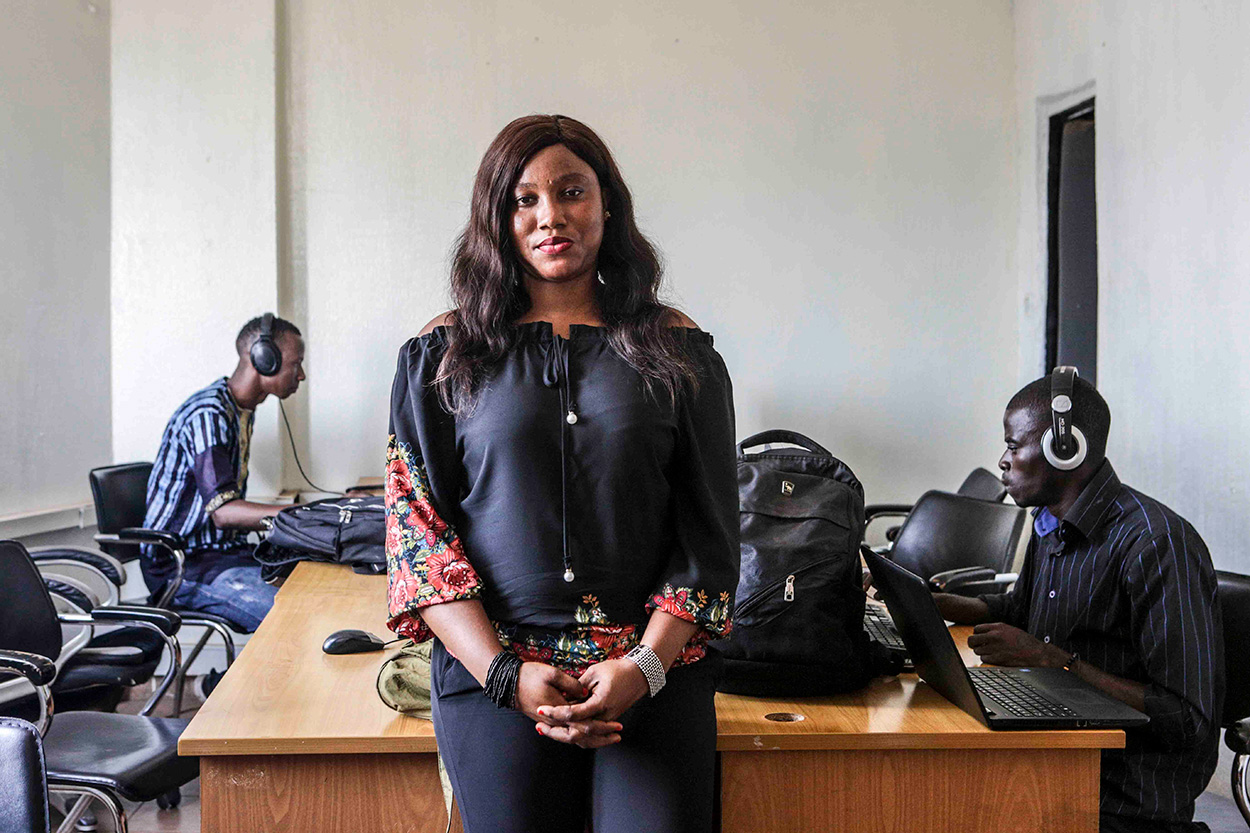 At six o'clock in the morning, Conakry is still sleeping. Keita is awake, excited about the day ahead. She reaches for her phone, "to read the news, to find out what's happening in the world and Guinea." Being a journalist is not just a job for Keita.
The days are long. Yet fatigue doesn't matter. "I get up early; I come home late. But at the end of the day, I feel like I have contributed to serving my country. That's where I draw all my strength, my courage," she says. In February, Keita added new arrows to her bow. As part of our USAID-funded "Building Electoral and Accountability Capacities, Orderly Norms, and Democratic Governance" project, Keita and other journalists received training in conflict sensitivity and rumor management.
"This training came at just the right time. I learned a lot about our responsibility in times of crisis. We were one week away from the elections [finally postponed until October]. It was a difficult time for Guinea. The tension was pervasive throughout the country, with clashes increasing. Our role was essential in calming the population. Our words can both unite or set the country on fire,"  says Keita.
Our journalist's answers are clear and concise. She chooses her words carefully. Keita knows that the same information can have a very different impact: "If I point the finger at a particular ethnic group during a confrontation, I open the door to retaliation. I can report this information by saying that there have been clashes between Guinean citizens. I must inform without throwing oil on the fire".
Today, as social networks have become a significant source of information for citizens, journalists must be all the more vigilant. During the two-day training, our teams discussed how to deal with rumors. "If I had disseminated information without checking it, I would have participated in spreading rumors. That's not what news is all about… It's about providing accurate, credible, and verified information. The average citizen takes for granted what he hears on the radio, what he sees on television, or what he reads in the press. We journalists must place this responsibility above all else."
With elections scheduled for October 18, Keita is more ready than ever. "The training helped me understand what I was going to do and how to do it on the eve of the election, election day and the day after. I should not say what people want to hear, but what can lead to peace. If the country burns, we all lose," concludes Keita.
---
[Activity]
BURKINA FASO, NIGER & MALI: Rebuilding Cross-Border Trust and Collaboration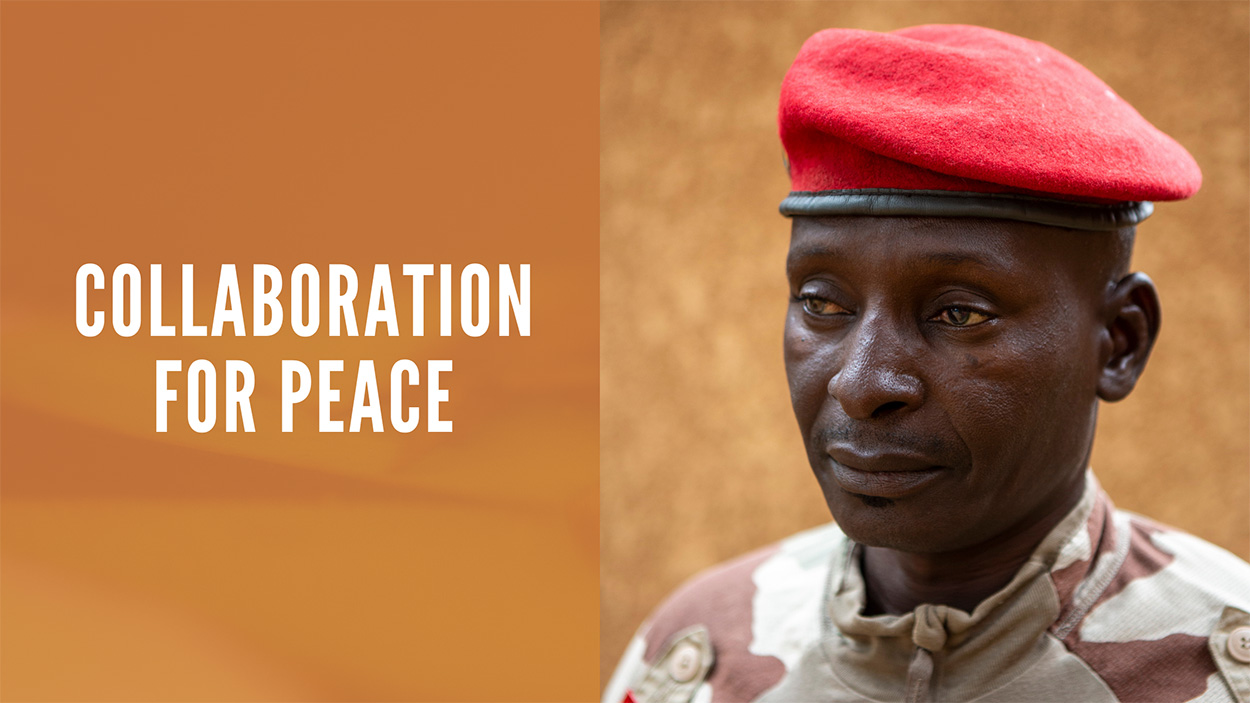 In the Sahel, the defense and security forces are working hard to overcome the growing insecurity. In their relentless struggle, one thing has become clear: the communities' support is inseparable from their mission's success.
Thanks to funding from the Danish Ministry of Foreign Affairs, we are now "Strengthening collaboration and cooperation between the defense and security forces (SDF) and the communities in the Liptako-Gourma region".
Last month, our Burkinabe media teams broadcasted 6 issues of the radio show "Le Fakir," focusing on the contribution of women, youth, and traditional chiefs in restoring cooperation between the SDF and the population.  Moreover, our radio partners enabled 32 broadcasts of our regional radio magazine "Génération Sahel," which explores the strengthening of this collaboration through the media.
Also in Burkina Faso, members of the defense and security forces we trained in conflict transformation and the protection of civilians have themselves sensitized 81 of their colleagues involved in the fight against terrorism.
---
[Campaign]

We need Peace. Here. Now.
During the Peacebuilding Action Week, our team in Nigeria joined peacebuilders worldwide to say it loud and clear. First, Tog Gang, program manager, reminded us of the importance of peacebuilding during a pandemic. In this latest podcast, he discusses how we can use the media as a tool to encourage unity and empathy during COVID-19.
Also joining their voice to this campaign for peace, members of the Forum on Farmer Herder Relations in Nigeria (FFARN)  organized their 4th regional exchange. During this virtual meeting, experts exchanged views on the theme of "Transhumance and Cross-Border Security." Together, they discussed the relations between farmers and pastoralists and crucial research and practice issues in Nigeria and the Sahel.
Finally, our team organized a zoom conference to address the impact of national and international policies on the dynamics of conflicts in Nigeria: insurgency, banditry, and disputes between farmers and pastoralists. The discussion also aimed to highlight Search's efforts to provide evidence-based research that informs policy at all levels.
Listen: podcast
---
[Activity]
NIGER: One team, together for peace

In the region of Diffa, young people are in the front line in the fight against insecurity. Laying the foundations for peace, our "Youth, Peace and Security" project, funded by German cooperation, fosters collaboration between young people, local authorities, security and defense forces (SDF).
And what could be better than having fun together to strengthen ties?
During a "solidarity week," young people, the SDF, and local authorities participated in fun activities such as soccer matches, horse racing, and participatory theatre performances. Through play, they got to know each other, trust each other, and finally collaborate.
Notably, the discussions and participatory theater sessions provided them with a new space to express themselves on sensitive issues and share their views on the current crisis. The youth discussed security measures such as curfews and their experiences of abuse and injustice. The SDF opened up about their "brothers" killed in the war against Boko Haram and how to avoid these losses through better collaboration. Together, they uprooted all mistrust sources, strengthened their mutual understanding, and explored solutions to end the cycle of violence.
---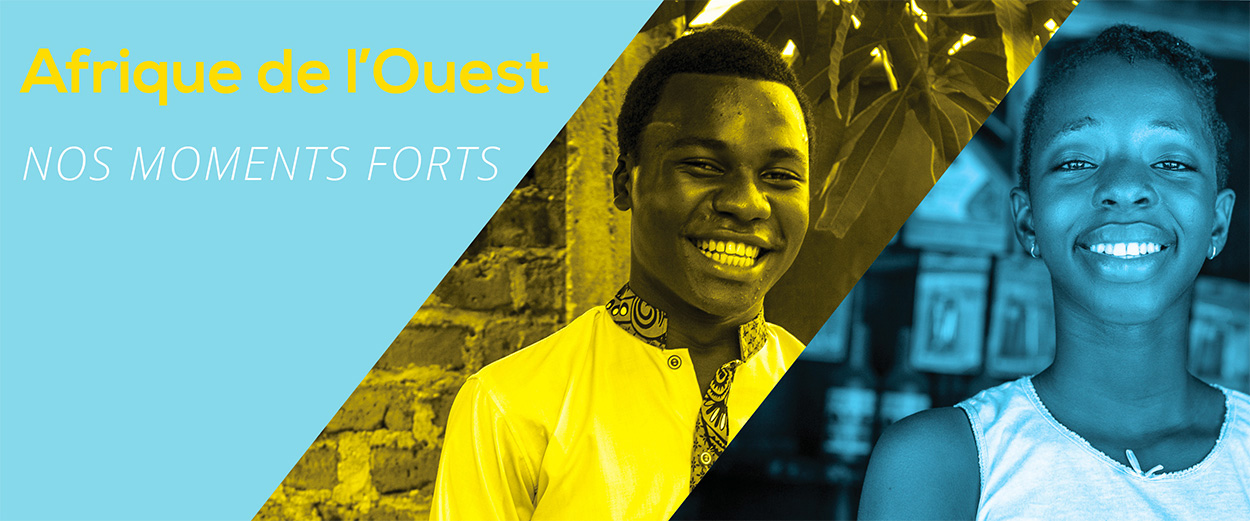 ---
Lisez les histoires que vous avez rendues possibles et célébrons ensemble nos succès dans la construction de la paix !
---
[Témoignage]
GUINÉE : Rencontrez Keita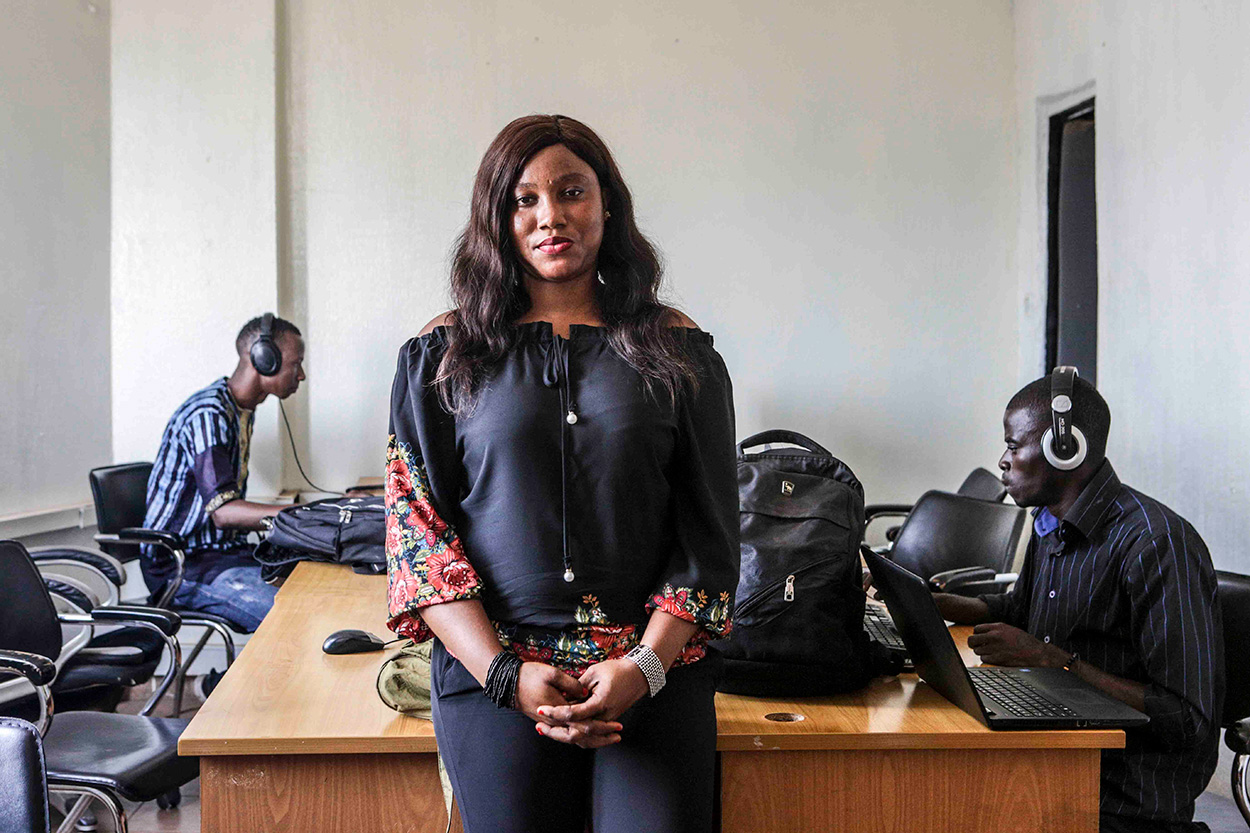 A six heures du matin, Conakry dort encore. Keita est réveillée, excitée par la journée qui s'annonce. Elle attrape son téléphone, "pour lire les nouvelles, pour savoir ce qui se passe dans le monde et en Guinée". Être journaliste n'est pas seulement un travail pour Keita.
Les journées sont longues. Pourtant, la fatigue importe peu. "Je me lève tôt, je rentre tard. Mais à la fin de la journée, j'ai le sentiment d'avoir contribué à servir mon pays. C'est là que je puise toute ma force, mon courage", dit-elle. En février, Keita a ajouté de nouvelles flèches à son arc. Dans le cadre de notre projet financé par l'USAID "Building Electoral and Accountability Capacities, Orderly Norms, and Democratic Governance" (Renforcement des capacités électorales et de responsabilités,  des normes ordonnées et de la gouvernance démocratique), Keita et d'autres journalistes ont reçu une formation sur la sensibilité aux conflits et la gestion des rumeurs.
"Cette formation est arrivée juste au bon moment. J'ai beaucoup appris sur notre responsabilité en temps de crise. Nous étions à une semaine des élections [finalement reportées au mois d`octobre]. C'était une période difficile pour la Guinée. La tension était omniprésente dans tout le pays, les affrontements se multipliaient. Notre rôle a été essentiel pour calmer la population. Nos paroles peuvent à la fois unir ou enflammer le pays", raconte Keita.
Les réponses de notre journaliste sont claires et concises. Elle choisit ses mots avec soin. Keita sait que la même information peut avoir un impact très différent : "Si je montre du doigt un groupe ethnique particulier lors d'un affrontement, j'ouvre la porte aux représailles. Je peux rapporter cette information en disant qu'il y a eu des affrontements entre des citoyens guinéens. Je dois informer sans jeter de l'huile sur le feu".
Aujourd'hui, alors que les réseaux sociaux sont devenus une source d'information importante pour les citoyens, les journalistes doivent être d'autant plus vigilants. Pendant les deux jours de formation, nos équipes ont discuté de la manière de gérer les rumeurs. "Si je diffuse l'information sans la vérifier, je participe à la diffusion de rumeurs. Ce n'est pas ça, l'information… Il s'agit de fournir des informations précises, crédibles et vérifiées. Le citoyen lambda tient pour acquis ce qu'il entend à la radio, ce qu'il voit à la télévision ou ce qu'il lit dans la presse. Nous, les journalistes, devons placer cette responsabilité au-dessus de tout".
Avec les élections prévues pour le 18 octobre, Keita est plus prête que jamais. "La formation m'a permis de comprendre ce que j'allais faire et comment le faire à la veille de l'élection, le jour du scrutin et le lendemain. Je ne dois pas dire ce que les gens veulent entendre, mais ce qui peut mener à la paix. Si le pays brûle, nous sommes tous perdants", conclut Keita.
---
[Activité]
BURKINA FASO, NIGER & MALI : Reconstruire la confiance et la collaboration transfrontalières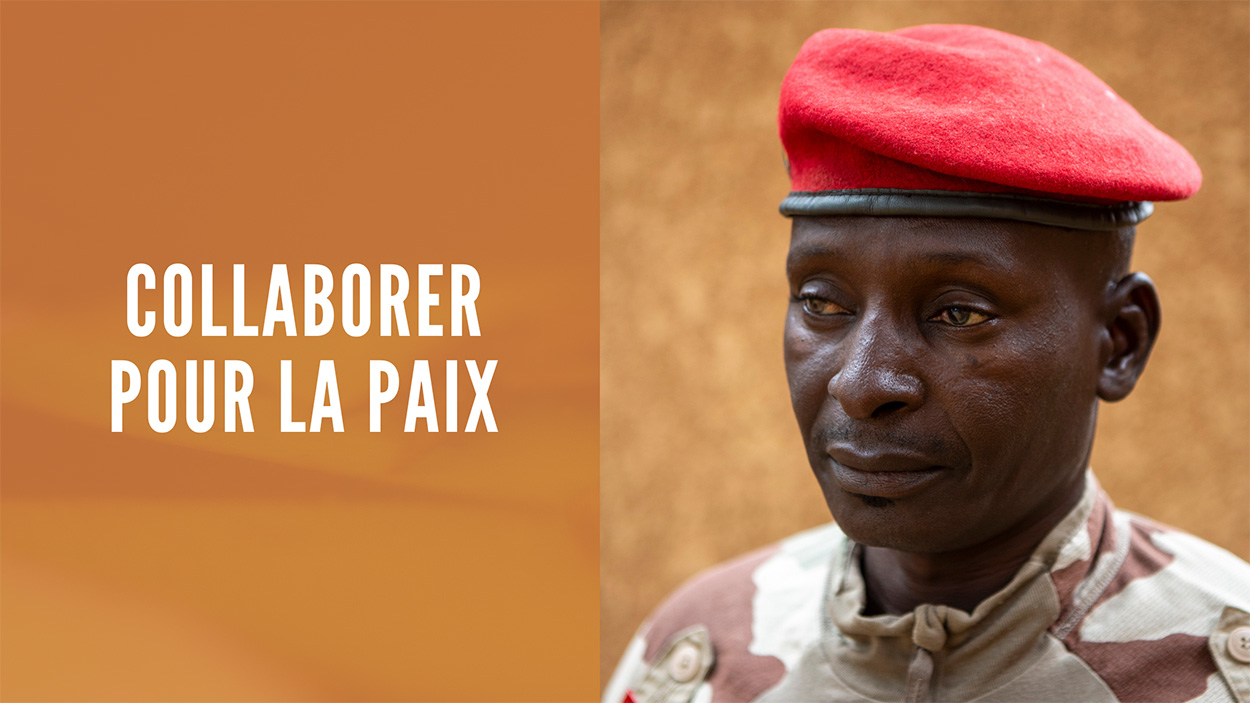 Au Sahel, les forces de défense et de sécurité travaillent sans relâche pour lutter contre l'insécurité croissante. Dans leur bataille acharnée, une chose est devenue claire : le soutien des communautés est indissociable du succès de leur mission.
Grâce au financement du ministère danois des affaires étrangères, nous "Renforçons la confiance et la coopération entre les forces de défense et de sécurité (FDS) et les communautés de la région du Liptako-Gourma".
Le mois dernier, nos équipes médiatiques burkinabé ont diffusé 6 numéros de l'émission  radio "Le Fakir", mettant l'accent sur la contribution des femmes, des jeunes et des chefs traditionnels dans le rétablissement de la coopération entre les FDS et la population.  En outre, nos partenaires radio ont permis la diffusion de 32 numéros de notre magazine radio régional "Génération Sahel", qui explore le renforcement de cette collaboration à travers les médias.
Toujours au Burkina Faso, les membres des forces de défense et de sécurité que nous avons formés à la transformation des conflits et à la protection des civils ont eux-mêmes sensibilisé 81 de leurs collègues impliqués dans la lutte contre le terrorisme.
---
[Campagne]

Nous avons besoin de la paix. Ici. Maintenant.
Pendant la semaine d'action pour la consolidation de la paix, notre équipe au Nigeria s'est jointe aux bâtisseurs de paix du monde entier pour le clamer haut et fort. Tout d'abord, Tog Gang, responsable du programme, nous a rappelé l'importance de la consolidation de la paix pendant une pandémie. Dans ce dernier podcast, il explique comment nous pouvons utiliser les médias comme un outil pour encourager l'unité et l'empathie pendant COVID-19.
Joignant également leur voix à cette campagne pour la paix, les membres du Forum sur les relations entre agriculteurs et éleveurs au Nigeria (FFARN) ont organisé leur 4e échange régional. Au cours de cette réunion virtuelle, les experts ont échangé leurs points de vue sur le thème de la "Transhumance et de la sécurité transfrontalière". Ensemble, ils ont discuté des relations entre agriculteurs et éleveurs et des questions cruciales de recherche et de pratique au Nigéria et au Sahel.
Enfin, notre équipe a organisé une conférence zoom pour aborder l'impact des politiques nationales et internationales sur la dynamique des conflits au Nigéria : insurrection, banditisme et conflits entre agriculteurs et éleveurs. La discussion visait également à mettre en lumière les efforts déployés par Search pour fournir des recherches fondées sur des preuves qui éclairent les politiques à tous les niveaux.
Écoutez : podcast
---
[Activité]
NIGER : Une équipe, ensemble pour la paix

Dans la région de Diffa, les jeunes sont en première ligne dans la lutte contre l'insécurité. Posant les bases de la paix, notre projet "Jeunesse, paix et sécurité", financé par la coopération allemande, renforce la collaboration entre les jeunes, les autorités locales, les forces de défense et de sécurité (FDS).
Et quoi de mieux que de s'amuser ensemble pour renforcer les liens ?
Au cours d'une "semaine de la solidarité", les jeunes, les FDS et les autorités locales ont participé à des activités ludiques telles que des matchs de football, des courses de chevaux et des représentations de théâtre participatif et autres discussions. En jouant, ils ont appris à se connaître, à se faire confiance et, enfin, à collaborer.
Les discussions et les séances de théâtre participatif leur ont notamment offert un nouvel espace pour s'exprimer sur des questions sensibles et partager leurs points de vue sur la crise de sécurité. Les jeunes ont discuté des mesures de sécurité telles que les couvre-feux et de leurs expériences en matière d'abus et d'injustice. Les FDS ont évoqué leurs "frères" tués dans la guerre contre Boko Haram et abordé la manière d'éviter ces pertes grâce à une meilleure collaboration. Ensemble, ils ont déraciné les sources de méfiance, renforcé leur compréhension mutuelle et exploré des solutions pour mettre fin au cycle de la violence.